Google Groups is a powerful tool that allows organizations to manage communication, collaboration, and information sharing among team members, departments, or project groups. To effectively administer these groups, Google Workspace administrators can delegate Google Groups management to trusted Group Owners (eg. project managers, product team leaders). Delegating these responsibilities can streamline group management and empower group leaders to take ownership of their groups' settings and membership.
Simultaneously, using Synk.to platform you can connect these Google Groups to synchronise with dozens of your favourite SaaS systems (eg. Slack, Jira, Confluence, Zoom, etc.). So by delegation Google Workspace administrators will take off much of operational work of not only managing groups, but also managing access to internal business systems.
In this article, we'll explore the step-by-step process of delegating Google Groups management to Group Owners inside your organization.
Why Delegate Google Groups Management?
Delegating Google Groups management has several advantages:
Efficiency: Delegating administrative tasks to Group Owners reduces the burden on IT or administrative teams, freeing up their time for more critical tasks.
Empowerment: Group Owners can make timely decisions related to group membership, permissions, and settings, aligning group management with specific group needs.
Responsiveness: Group Owners can quickly respond to membership requests, approve or deny requests, and manage group content without requiring central IT intervention.
Streamlined Communication: Empowering Group Owners fosters better communication within groups, as they can adjust settings and permissions to match their group's unique requirements.
Accountability: Group Owners will be accountable of their groups, ensuring that they remain active and relevant.
Now, let's dive into the steps to delegate Google Groups management to Group Owners.
Step 1: Identify Trusted Group Owners
Before you can delegate management responsibilities, identify individuals within your organization who are responsible and trustworthy. Group Owners should be familiar with the group's purpose and willing to take on these additional responsibilities.
Step 2: Assign Group Owners
Log in to your Google Workspace admin console.
Navigate to "Directory" → "Groups".
Click on the group for which you want to delegate management.
In the group, go to "Members" section.
In the "Role" column, choose account of the individuals you want to designate as Group Owners and set "Owner" role for them.
Click "Save".
Step 3: Communicate with Group Owners
Inform the newly assigned Group Owners about their responsibilities. Encourage open communication to address any questions they may have.
Now they can manage their Google Groups using https://groups.google.com/my-groups link.

In order to add member of the group they need to click on the group, go to "Members" section in the left menu, click "Add members", and type new member(s) emails in "Group members" field.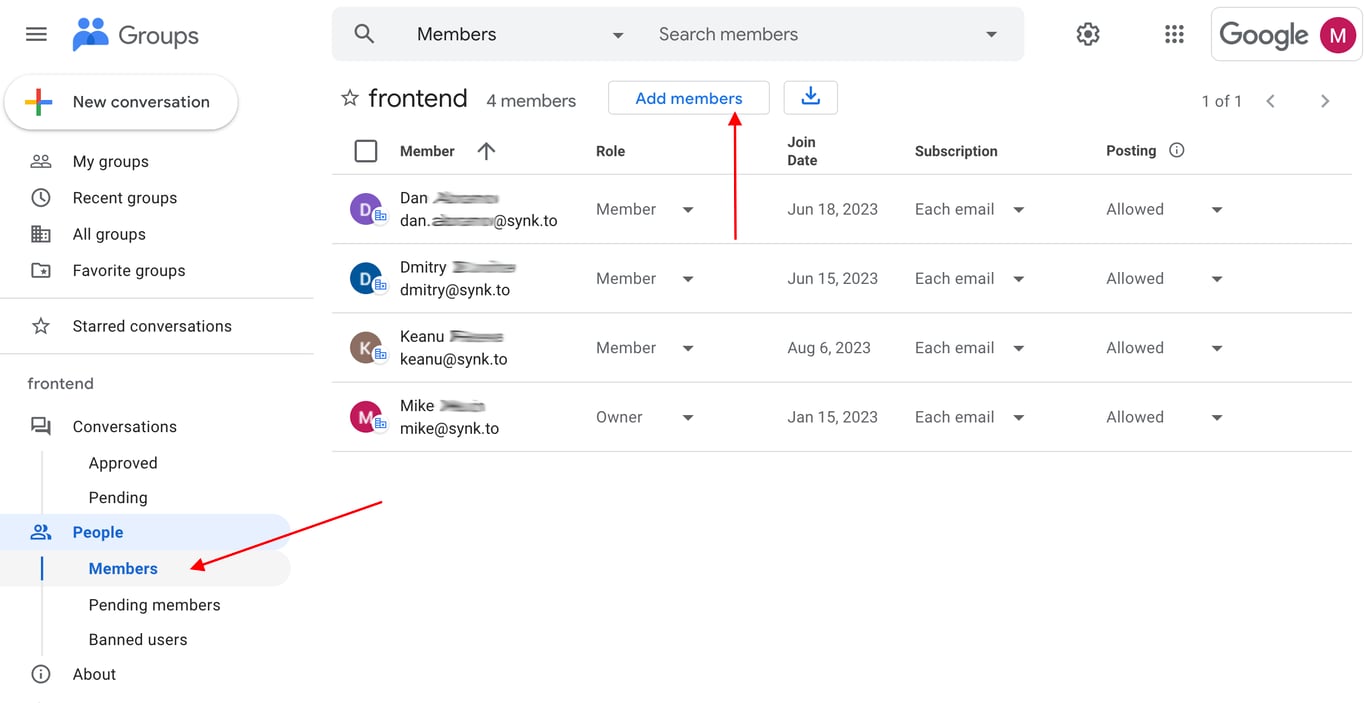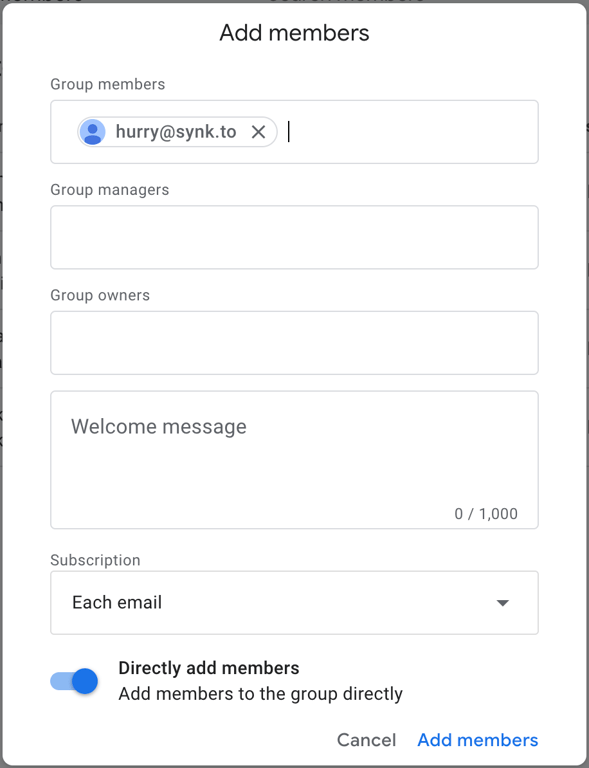 In order to delete member from the group they need to choose the member and click on "
Remove member
" icon.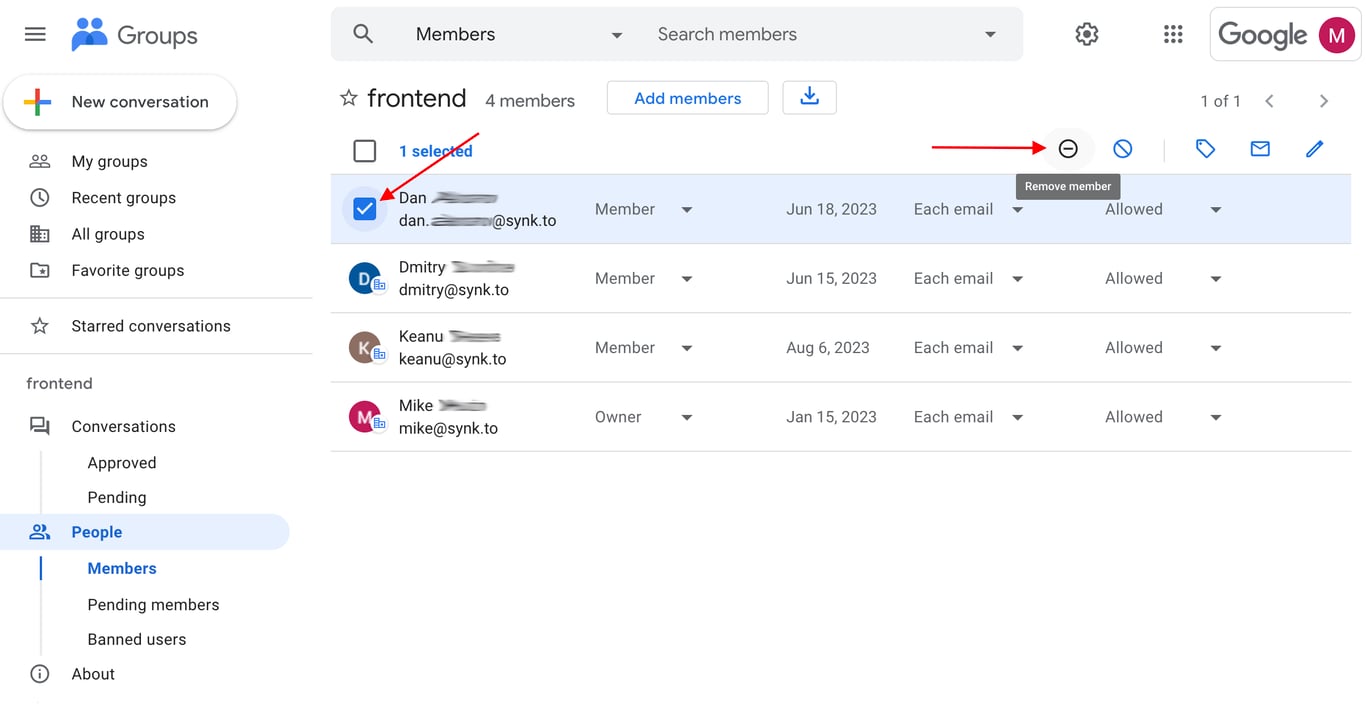 Step 4: Setup Google Groups synchronization with other SaaS systems
With Synk.to platform you can connect Google Groups to other groups from dozens of your favourite SaaS systems (eg. Slack, Azure AD, Microsoft 365, Jira, Confluence, Zoom, BambooHR, etc.).
Connect your Google Workspace to Synk.to using this instruction.
Connect your other SaaS tools to Synk.to and setup Groups mapping between Google Workspace and other SaaS tools:

Enjoy the power of Synk.to automation during employee group change, on-boarding or termination.
Conclusion
Delegating Google Groups management to Group Owners can streamline communication, enhance group ownership, and reduce the administrative burden on IT and cybersecurity teams. By following the steps outlined in this article, organizations can empower their Group Owners to take control of their groups, fostering better collaboration and communication within the organization.